Chemical Peels
VI PEEL 7-days to sensational skin.

If you believe your skin can look and feel better, you're not alone. Join the millions of women and men who have experienced the remarkable benefits of the VI Peel. Book a Free consultation online or call us at 212.245.0940
The VI Peel is the most sophisticated, medical-grade chemical peel available today. As a skin resurfacing treatment, the VI Peel works in the deeper layers of the epidermis to stimulate cellular renewal. The formation of these new skin cells provides remarkable and long-lasting benefits.
Increasing cellular turnover, the VI Peel actually teaches mature skin to look and "function" like younger skin. It erases lines and wrinkles, and promotes a smoother, more refined skin texture.
Simultaneously, damaged and discolored skin begins to produce new and "healthier" skin cells. A great advantage for individuals suffering with acne, scarring, and pigmentation irregularities.
As a preventative, and anti-aging remedy, few treatments compare. Among medium depth chemical peels the VI Peel is unsurpassed in its ability to increase collagen and elastin in the epidermis. As one of the most scientifically advanced peels, it has an outstanding ability to ward off the signs of age, and promote a youthful appearance year, after year.
VI Peels are used by discerning women and men who want to look and feel their best. They are good for all skin types and can be used to treat a variety of skin concerns on both the face and body.
Acne
Melasma
Aging Skin
Hyperpigmentation
Acne Scarring
Excessive Oil
Skin Tone
Skin Dehydration
Skin Texture
Lines and Wrinkles
Loss of Elasticity
Ingrown Hairs
Stretch Marks
Skin Discolorations
Rough Patches
Keratosis Pilaris
Skin Lightening
Ingrown Hairs
Scars on Body
Textural Irregularities
Signs of Age / Hands
Signs of Age / Body
Intimate Bleaching
Bikini Area, Buttocks, and Underarms
Pigmentation Irregularities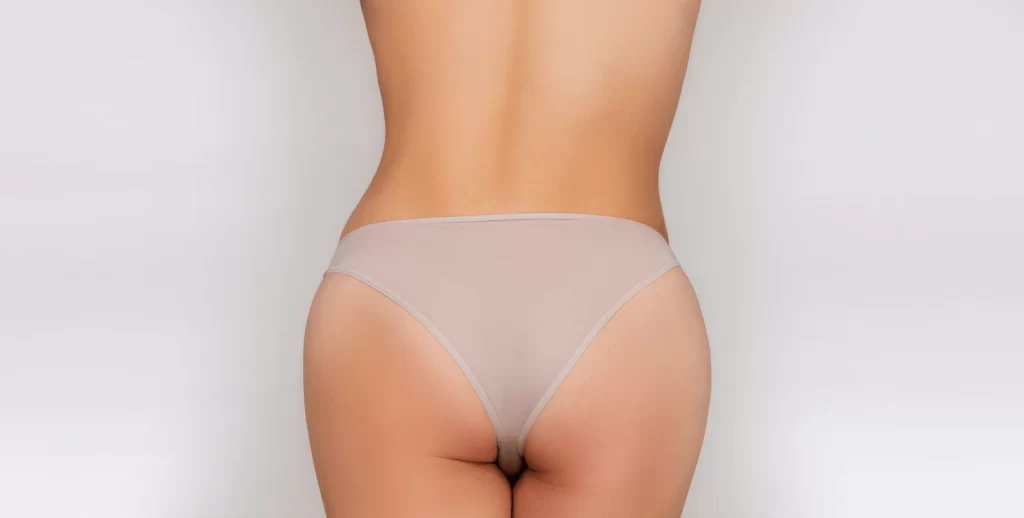 Why VI Peels Are So Important
Understanding Cellular Turnover
CELLULAR TURNOVER
AFTER THE AGE OF 20
A slowdown in cellular turnover is one of the main reasons why individuals loose 1% of the collagen in their skin after the age of 20.
In young, healthy individuals, it takes approximately 21-days for cells formed at the bottom of the epidermis to migrate to the skin's surface. This rapid rate of cellular turnover promotes an increase in the production of collagen, elastin and fibroblasts. Producing the smooth, plump, supple skin that is evident in youth.
With each passing year, the rate of cellular turnover slows down. The first effect is a loss of collagen which causes skin to loose its suppleness in small degrees that become more pronounced over time.
Secondly, dead skin cells adhere to the surface of the skin for longer periods of time. This leads to clogged, congested, dry, and dehydrated skin that slowly loses it's youthful luster.
VI Peels stimulate cellular turnover and help to increase the production of collagen. Following a peel your skin will look younger, and more radiant.
CELLULAR REGENERATION
AFTER THE AGE OF 20 AND WHEN THERE IS TRAUMA
In conjunction with collagen loss, there is a gradual and steady impact on the way cells regenerate. In youth, each replication perfectly models the preceding cell. With the passage of time, the replication of cells is slightly less perfect. This is why, lines, wrinkles, and sagging skin are evident in mature individuals even though new skin cells eventually make their way to the surface.
Trauma also impacts cellular regeneration. Scars, pigmentation changes, discolorations, and stretch marks are examples of skin traumas that lie in the deeper layers of the epidermis.
Stress and environmental factors such as pollution, cigarette smoking, and sun exposure also have a pronounced effect on the way cells regenerate.
VI Peels not only increase cellular turnover, they also help reproduce healthier skin cells. While a series of treatments is usually recommended to achieve the desired results, stunning transformations are possible.
Application of The VI Peel
Your treatment at Spark Laser Center and Medical Spa begins with a thorough and relaxing cleansing of your skin.
Once your skin is cleansed a special solution is used to wipe away surface impurities and prepare your skin for the VI Peel. The peel is applied and dried in layers. Depending upon your skin type and the area treated, five to seven layers may be applied. A fan is used to keep the skin cool during the treatment, making the experience quite comfortable.
Once the treatment is completed your personal, talented Sprak Aesthetician will provide you with a complimentary post-peel product kit and detailed home care instructions.
You can expect your skin to start peeling on the third day following your procedure. It will continue to peel for four days. During this time you should avoid direct sun-exposure and use the SPF provided in your post-peel kit.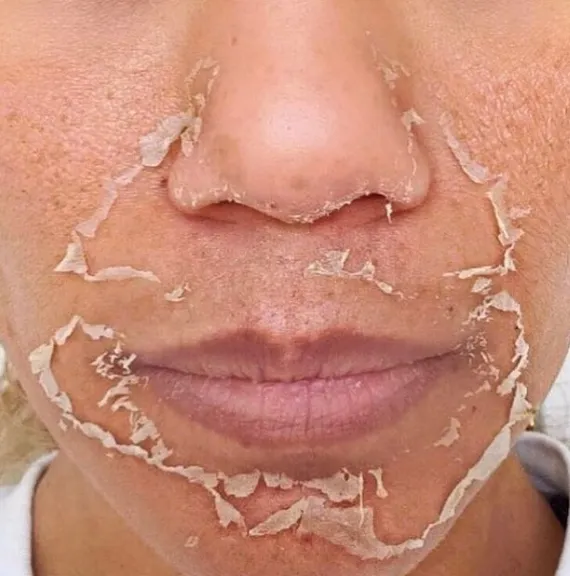 Is There Downtime? Not Really!!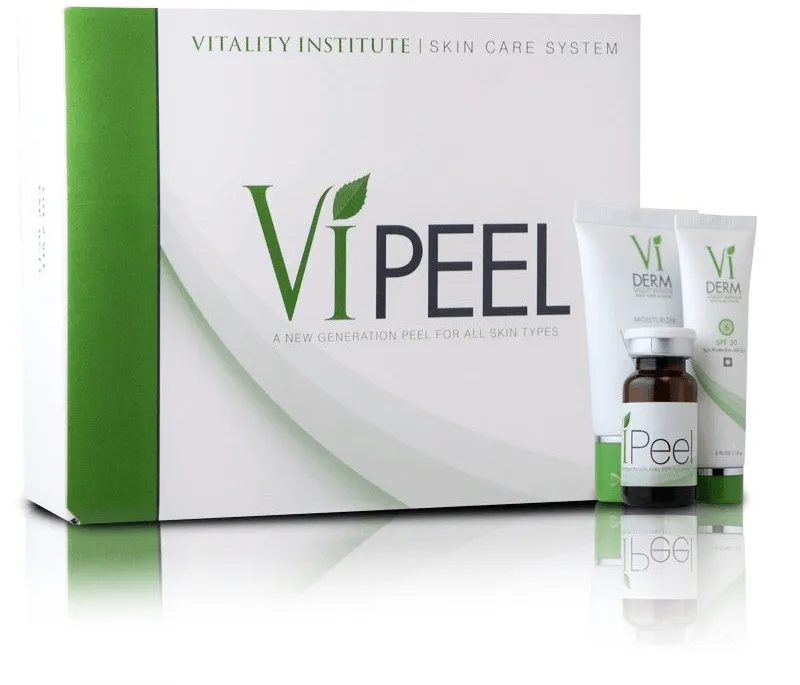 The photo displayed above depicts one of Spark's clients during the early stages of the peeling process. The peeling looks quite conspicuous because this individual has yet to apply a post-treatment moisturizer.
If you would like a NO-DOWNTIME TREATMENT, we recommend the use of Aquaphor. This healing ointment can be applied multiple times a day to gently remove the layers of dead skin cells. It will not interfere with the efficacy of your treatment. It will only make the peeling process virtually invisible to friends and colleagues.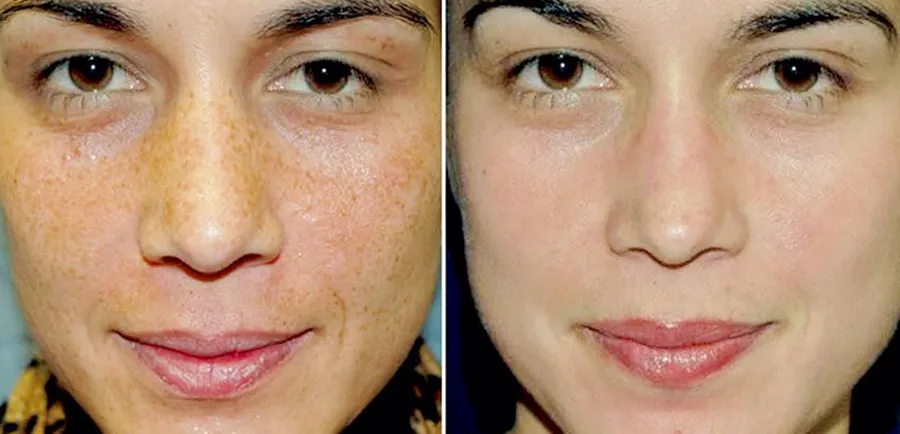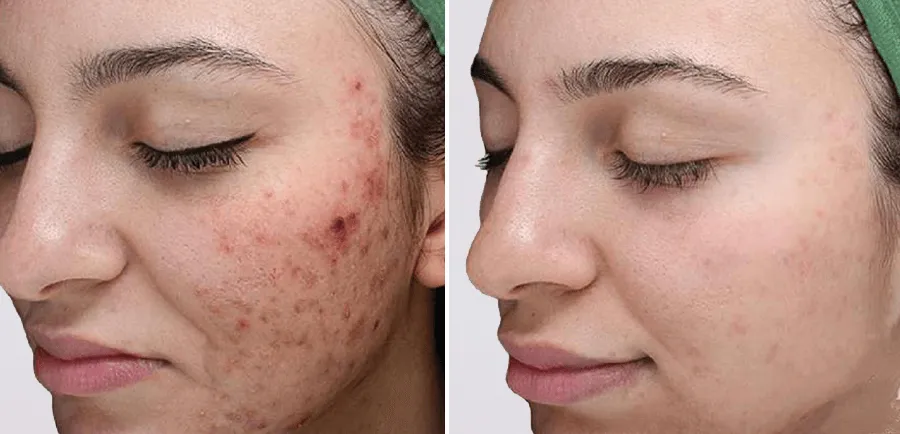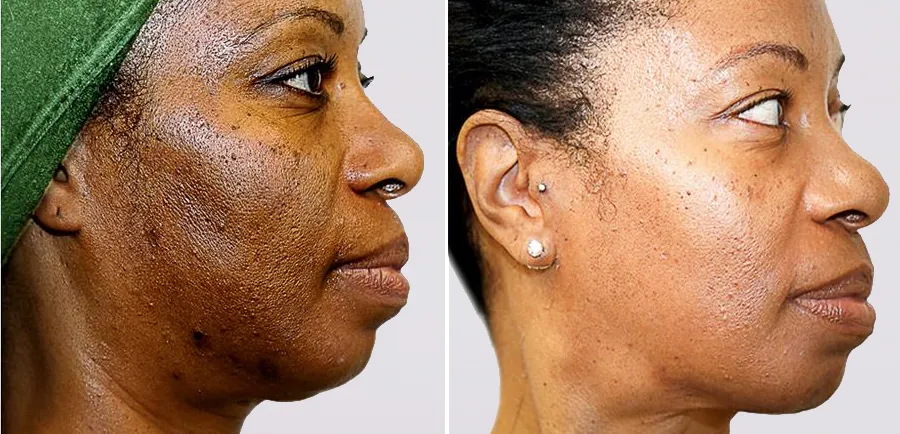 Flawless Skin at Every Age
Each therapy serves its own unique function in "perfecting" your skin. A consultation and skin analysis with a Spark Specialist is the best way to discover which protocols are right for you.
20's & Early 30's
Monthly Hydrafacial
VI Peels 3x's per year
Acne & Acne Scarring
Monthly Hydrafacial or Acne Facial
Series of 6 VI Peels
Series of 6 Microneedling Treatments
Can add
Series of 6 Laser Genesis Treatments
Maintenance
VI Peel 2x's per year
Microneedling 2x's per year
Mid to Late 30's
Monthly Hydrafacial
Series of 3 VI Peels
Maintenance
VI Peel every 4 months (3x's per year)
40's
Monthly Hydrafacial
Series of 6 VI Peels
Series of 6 Microneedling Treatments
Can add
Series of 8 Laser Rejuvenation Treatments
Can add
Series of 8 Laser Rejuvenation Treatments
Maintenance
VI Peel every 4 months (3x's per year)
MicroNeedling every 4 months (3x's per year)
Late 40's & 50's
Monthly Hydrafacial
Monthly VI Peel
Monthly Laser Rejuvenation
Series of 3 Microneedling Treatment
60's +
Monthly Hydrafacial
Monthly VI Peel
Monthly Laser Rejuvenation
Series of 3 Microneedling Treatments
Pigmentation & Discolorations
Monthly Hydrafacial
Series of 6 VI Peels
Series of 6 Microneedling Treatments
Maintenance
VI Peel 2x's per year
Microneedling 2x's per year
Scarring & Stretch Marks On The Body

Series of 6 VI Peels
Series of 6 MicroNeedling Treatments

Maintenance

VI Peel 1x's per year
MicroNeedling 1x's per year

Discolorations On The Body

Series of 6 VI Peels or PCA Peels
Series of 6 Microneedling Treatments

Maintenance

VI Peel 1x's per year
Microneedling 1x's per year

Intimate Bleaching Bikini, Buttocks & Underarms

Series of 6 VI Peels or PCA Peels

Maintenance

VI Peel or PCA Peel 2x's per year